Diving News
This page will get semi-regular updates if I've done something interesting related to diving.
Cave diving on steriods
November 20, 2007 @ 17:39 by mark
Just got back from a full month of cave diving with the Megalodon. Now I realise what closed-circuit rebreathers are for - it's totally changed the way I can dive caves. By the end of the trip I'd pushed my maximum bottom times (time inside the cave) to four hours, or five hours including deco (the less said on that point, the better...). The good part about dives like this is I can explore so much of the cave on a single dive. The bad part is finding a dive buddy for this kind of diving. Even in cave country it's tough and I had to do most of the dives alone. The other bad part is with all that swimming you can hardly stand when you come out. Now, feeling rather limited by the duration of my CO2 scrubber, I purchased a new radial scrubber, which should easily be able to handle durations of up to ten hours. I can't wait until my next trip in February.
Horst and I didn't really get to dive together on this trip, but we did manage to hook up with Jill Heinerth again and get our CCR Cave and CCR Trimix certs done, and combine it with a couple of nice deep dives in Eagle's Nest (83m). I'll definitely be returning to the nest on the next trip. Also finally managed to finish off my cave instructor rating as well - quite a lot done this time around!
French wrecks
September 28, 2007 @ 10:12 by mark
Just returned from a trip to Hyres, in France. This is a (usually) regular trip involving just wrecks. Horst and I took our rebreathers with us and decided at the end of the trip not to bring them again to this location. The fact is that it was just too much hassle, and since we were diving with (technical) open circuit divers, we couldn't really get the time advantages that the units could have afforded us. Some people who dive rebreathers think that once you buy one you must do every single dive with it. I don't agree at all. A CCR is a dangerous device that could kill you at any time, why take the risk of using one on a simple dive that could be done more safely with open circuit? For the next France trip we'll be doing it open-circuit, but for the Florida caves - that's another matter entirely...
CCR training
April 22, 2007 @ 21:19 by mark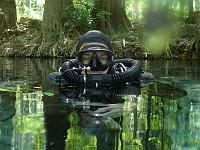 On the surface with the Megalodon
As promised in the previous entry Horst and I returned to Florida to complete our Megalodon training with Jill Heinerth. Our new Megs were waiting for us, and we eagerly assembled and tested them. The training was great fun and Jill, as usual, was fantastic. Horst has used many rebreathers and commented that the Meg was the first rebreather he'd used that worked flawlessly straight out of the box, and continued to work for the rest of the week. It was my first CCR, so I couldn't really compare, but I was very happy with the unit. It was a wierd feeling to dive with a CCR for the first time, so many things are totally different to open-circuit. Now my focus will be getting more time on the unit. Diving - and surviving! You can see some pictures of the trip here.
Megalodon rebreather
January 27, 2007 @ 14:22 by mark
While I was in Mexico I talked at length with Horst Schmid about rebreathers. After lengthly consideration I decided to become his "rebreather buddy" and bought myself a Megalodon closed-circuit rebreather. I have to wait until April for delivery when we return to Florida to do the open water level on the unit with Jill Heinerth. Sounds like we'll be doing some intense training with a lot of time in the water but I'm looking forward to it. After the course we'll only have CCR Open Water. Then we have to start all over again working towards CCR Cave and CCR Trimix. Seems like there's never an end to it...
Mexico cave diving trip
January 23, 2007 @ 10:14 by mark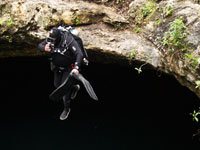 Jumping into Temple of Doom
Hot on the heels of the Florida trip was a trip to the cave systems of Yucatan in Mexico. It was my first time to Mexico and I enjoyed it a lot. The caves were certainly less challenging than those of Florida (less than 18 meters of depth, no current) but far more beautiful. I got eaten alive by mosquitos, but it was worth it. There were plenty of students there, so I also got the chance to work towards my cave instructor rating. One of the highlights was the narrower tunnels well behind the Room of Tears at Carwash, and the Chinese Garden in the Taj Mahal. How can I describe these places to non-cave divers? They are usually too busy pronouncing me as "crazy" to try to understand...
I think I'll definitely be back in Mexico, but I still prefer Florida. It's not as beautiful, but I prefer a more challenging environment. You can view some pictures in the album.
Florida cave diving trip
November 29, 2006 @ 13:30 by mark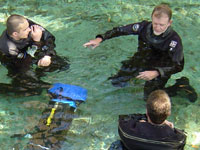 Briefing with Larry
Just got back from a great trip to High Springs, Florida. We spent two weeks diving in the area and covered the usual caves - Ginnie Springs, Little River, Peacock. I teamed up with Michi Treutler for the trip as the others in the group were involved in training. Towards the end of the trip Michi and I took a DPV course with Larry Green using the Silent Submersion scooter which was a lot of fun. We rented the scooters for a couple of days more and used them to extend our penetration at Ginnie. By the end of the trip we had managed 3,800 ft (past Henkle, on mainline) and 2,200 ft (past the Sherwood split, right side). Easy stuff for the locals, but we still have the Mainland circuit to do next time...
We were regularly doing two-and-a-half hour dives, twice per day so we had to stay organised. I realised for the first time that a P-valve is of paramount importance on longer dives and installed one into my dry suit. Unfortunately I flooded my camera housing so there are no photos from this time, but you can find photos of the previous trip in the album here.
Start of the news
November 1, 2006 @ 17:10 by mark
This is the first news entry, so you won't find anything about any diving activities prior to this date. Try checking out the Underwater section of the photo album instead.