Personal Diving Highlights
I've been lucky enough to dive in some very beautiful and special places. These are some of my favourites.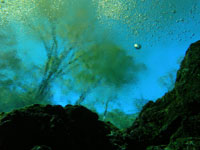 Looking out of the Devil's Ear
Ginnie Springs, Florida
Located near High Springs, Florida, Ginnie Springs is probably one of the most well-known cave diving spots in the world. Over 23,000 feet of passageways mean that there is plenty to explore for both beginner or seasoned cave divers. Most of the system sits at around 30 meters' depth - meaning plenty of deco time after long explorations. Water temperature is usually around 22-24 degrees, but flow can vary from light to quite strong.
Within a couple of hours' drive from Ginnie you'll also find many other spots for cave divers, as well as excellent fill stations fully kitted-out for the needs of the technical diver. You may explore some photos of Ginnie Springs in the album.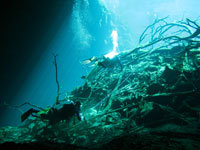 The cavern at Car Wash
Yucatan, Mexico
The caves of the Yucatan penninsula are probably the most spectacular in the world. Highly decorated with stalactites and other formations these "Cenote" systems can keep a cave diver entertained for a very long time. Water temperatures of 26 degrees, combined with shallow depths (shallower than 18 meters, usually not more than 12) and an almost total lack of current make these cave dives seem "easy" (compared to Florida).
A seemingly endless supply of cave systems means plenty of variety and possibilities, even during an extended stay. You can check out some photographs of the area here.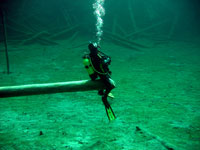 Relaxing in the Samarangersee
Samarangersee / Fernsteinsee, Tirol, Austria
Crystal clear waters await divers in the Samarangersee, tucked away in a beautiful corner of Tirol. This site consists of two lakes - Fernsteinsee and Samarangersee. The former is more well-known, but the later is definately the highlight - I prefer to only dive the Samarangersee when I'm there. Each lake is no deeper than 13 meters and they aren't particulaly large. Water temperatures of 6 degrees mean that a 20-30 minute dive is usually sufficient to see most of the features.
The lakes are privately owned by a hotel on the same site - meaning that that you must stay 2 nights in the hotel to get permission to dive. This is far from a problem however - the hotel is excellent and includes breakfast and dinner. Even non-divers will appreciate the 7-course dinner in the evenings...
You can view some photos from previous trips here.
Wreck of the Thistlegorm, Red Sea, Egypt
Lying in around 30 meters of water near the tip of the Sinai Penninsula lies the wreck of one of the most famous wrecks available to sport divers - the SS Thistlegorm. Many attractions await the diver: tanks, trucks, motorcycles and steam locomotives just to name a few. The site can get busy, so I usually make sure that I dive this from a large live-aboard boat that stays on the wreck overnight. A night dive on the Thislegorm was probably one of the most memorable dives I've ever done...
Elphinstone Reef, Red Sea, Egypt
Located south of Marsa Alam lies one of my favourite reefs - Elphinstone. Potentially strong currents and walls that drop off steeply into the depths make this dive unsuitable for beginners. Elphinstone is a long flat reef jutting up like a knife lying on its side. This means that it can be done as a drift dive - one dive on one side of the wall and another side on the other side. A few little spots which are not so obvious make Elphinstone a reef I look forward to visiting each time I make a southern tour...