Diving Credentials and Qualifications
This page serves as a sort of resume of my diving career. I'm quite active with my hobby and instruct on a semi-professional basis. What does semi-professional mean in this sense? It means that I'm quite active in the diving industry, but am not working in on a full-time basis. It means that I am far more active than most "hobby instructors". For me, diving is something between a hobby and a profession. When asked I usually describe it as my "hobby profession".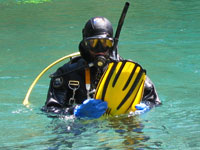 Samarangersee, Austria
Diving since: 1993
Instructing since: 2000
Certifications issued: 150+ (as of Jan 2007)
Dives: 800+ (as of Jan 2007)
Professional-level qualifications (sport):
Professional-level qualifications (technical):
IANTD Technical Cave Instructor
User-level qualifications:
IANTD Closed Circuit Rebreather (CCR) - Megalodon
IANTD CCR Cave Diver
IANTD CCR Trimix Diver
NACD Cave DPV (scooter)
Diving experience in the following countries: Australia, Germany, Switzerland, Austria, Egypt, Jordan, South Africa, USA, Mexico, France, Croatia, Italy.
Experience in the following environments: Tropical, temperate, cold, ice, deep, altitude, wreck, river, lake, ocean, extended range, trimix, DPV, cavern, cave, closed-circuit rebreathers (CCR), CCR cave, CCR trimix.
For latest news about further developments check out the news page or for details of my favourite dive spots see the highlights page.