SCUBA Diving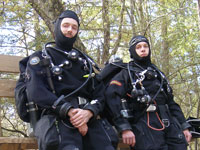 Peacock Springs, Florida
Diving is one of my main hobbies. In light of this I've decided to present various pieces of information about my hobby on this site.
I've been diving since 1993 and teaching diving since 2000. My local lake is the Zürisee (Lake Zurich) and during the summer and autumn months you'll often see me down at the lake giving courses. Lake Zurich is also deep enough to afford me the opportunities to do my own personal training on a regular basis.
In recent years technical diving has become a bigger part of my life, causing my focus to shift away from sport diving instruction to more technical activities. When I want to enjoy myself you'll find me far inside a cave system or penetrating a deep wreck.
I still enjoy the satisfaction of helping people to advance their diving skills beyond those of the "holiday diver". You'll also find more information about the activities and courses I organise at my dedicated diving site, Zurich Divers.
You'll find more information about my diving activities by using the menu to the left.