Bio
History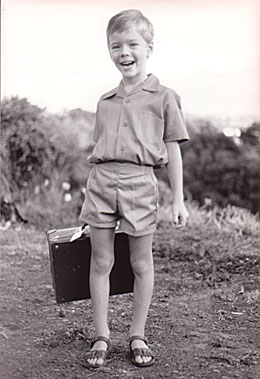 File photo
Mark Fyvie was born in Durban, South Africa to South African parents of British descent. Nineteen months after his birth another son, Robert, arrived. The two brothers would always remain close throughout their childhood and early adult lives. At the age of five his family left their home country for two main reasons; disenfranchisement with the then political turmoil surrounding the policies of apartheid and the promise of a better life with a higher standard of living. Mark's father was an electronics engineer at the time, working for a local company specialising in programmable logic controllers for industry and factory automation. The family moved to New Zealand and settled in Auckland where Mark began his schooling. While the climate in New Zealand would be considered idilic by many Europeans, the former Durbanites, used to sub-tropical temperatures, found the cold and rain unwelcome. After three years of living in Auckland Mark's father accepted a position to start the local branch office for another industrial electronics firm in Perth, Western Australia.
Perth was very much a growing city, and the family settled in quickly, gratefully soaking up the warmer climate and better economic conditions than they had been used to in New Zealand at the time. During the early 1980's New Zealand's economy was faltering and many Kiwis made the trip across the Tasman Sea to search for a better life.
The branch office in Perth grew rapidly and after just three years had grown from a one-man-show to fifteen employees. The managaging director of the company was retiring and Mark's father was offerred the position. For the third time in six years the family once again put their house on the market, packed their things and said farewell to their friends.
By the time Mark arrived in Sydney he was just about to start high school. Sydney was by far the largest city the family had lived in and adjusting wasn't always easy. A short period of stability followed, but at the age of fifteen Mark's parents separated shortly after the birth of his second brother, Philip. This was a difficult time for Mark and after initially living with his father he decided that his future did not lie in the household of either of his parents. At the age of sixteen he shocked his friends and family by leaving school, getting a job in a department store and renting his own apartment, never again to live with his parents. A year later he applied for a rather modest government study allowance and returned to a technical college to complete the schooling he had missed. He had missed some time but made up for it quickly, graduating at the same time as his former classmates.
At the age of eighteen he enrolled in a Bachelor of Science (Mathematics) degree at the University of New South Wales. However, mathematics was a very dry subject and the young man was not really motivated to continue. He didn't really see the practical benefits of a university life and after just six months secured a position with a well-established communications company in Sydney as a trainee telecommunications engineer. It was the early 1990's and the communications sector was booming. Local Area Networks (LANs) were being established in many companies and such know-how was not yet as mainstream as is today. Mark was fascinated by the technology and quickly soaked up every piece of knowledge of he could.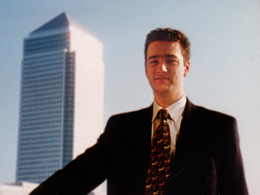 High times in London
After only eighteen months with his initial company, twenty year-old Mark left to pursue a career as an IT contractor. Luck shined on him and he was able to secure a number of excellent contracts working in some prestigious projects. At the age of twenty-three Mark became restless and started to wonder whether his future lay in bigger things beyond Australia's borders. Three months after the thought first occurred to him, he had sold all his possessions and was on a plane headed to London. He arrived with no apartment and no job, but during the mid 1990's the streets of London really were paved with gold for skilled (and also not-so-skilled) IT contractors. He thrived in this environment, quickly soaking up the international experience.
After just one year Mark said goodbye to London and headed to Frankfurt to start everything again. Germany had always held some sort of fascination for him, and he had begun to prepare by having German lessons while living in London. Arriving in Germany without a job or apartment was a completely different story to London. Quickly Mark started to realise that many things were different in this country, and he started to feel that this time he had bitten off way more than he could chew. Nonetheless he perservered and found a position with the European Central Bank. After three years in Germany, he turned his focus further south to neighbouring Switzerland.
Mark had heard so much about Switzerland, it was after all a country that was very good at marketing its image to the rest of the world. Clichés and horror stories abounded, but brushing aside the negatives he threw himself headlong into Switzerland. While Germany had been good preparation for him, Switzerland still managed to throw all sorts of surprises his way. It was as if Switzerland seemed like "Germany on steriods". While by this time he was fluent in German, he was completely baffled by Swiss-German and unable to understand even more than a few words. Fortune shon on him once again - in the early part of 2000 the internet-led boom was still very much in full swing in Switzerland. Only one day after arriving in Switzerland he took a position as a Senior Network Engineer with a rapidly growing systems integration company in Zurich. A year later the company went bankrupt when unsustainable revenue models, combined with high overheads became apparent. Once again he found himself on the contracting market. In March 2001 Mark travelled to Brussels and managed to pass the gruelling lab exam for the coveted Cisco Certified Internetworking Expert (CCIE) on his first attempt. This was a major achievement for him and represented the results of years of hard work. At the time less than 7,000 people had suceessfully gained this qualification world-wide.
Shortly after arriving in Switzerland Mark had decided to take his hobby of SCUBA diving to the next level and had become an instructor. Working on weekends he enthusiastically shared his passion with complete beginners, making many Swiss friends in the process. By actively pursuing his hobby in this way he was able to see a side to Switzerland than many of the expatriates never see. It was hard work, but he never regretted it for a moment.
Mark continues to live in Switzerland with his girlfriend Lynn. Though he appreciates the fantastic opportunies for diving during the summer and skiing during the winter, he does not feel at home in Switzerland. He yearns for a place where he can shop on Sundays, take a shower after 10pm and where he can find more than one or two types of a given product on the supermarket shelves.
Japan has always held a special fascination for him and during his first trip to Tokyo and Okinawa in February 2004 he became fascinated with the country - knowing that one day he would like to try living there. In October of 2004 he began Japanese lessons in earnest and continues to this day. He is unsure of when exactly he will move, but knows that when he does the decision will most likely be spontaneous.
When asked about whether he plans to return to Australia the reply is usually "Maybe one day, but not just yet". While Australia still means a lot to him and he confesses that he is still looking for somewhere that can match the lifestyle, he feels less and less Australian with each subsequent visit. Travel can be exciting, but after a while one's sense of identity can become a difficult thing to define. His future is still exactly the way he seems to prefer it - unclear.
Hobbies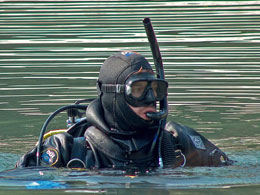 Mark's primary hobby is diving. He gained his recreational SCUBA Instructor rating with PADI in 2000, his IDC Staff Instructor rating in 2004, his Tec Deep Instructor (technical diving) rating in 2005 and Tec Trimix Instructor in 2006. By the end of 2006 he had issued more than 150 certifications to divers ranging from complete novices all the way up to assistant instructors and completed over 800 logged dives. He is lucky enough to have the opportunity to travel to many fanstastic diving locations and practice his hobby as often as he would like.
Other hobbies include travel, languages, film, photography, graphic arts, design, politics and current affairs, software development, lamenting the shocking state of the English language, sending sarcastic emails and trying to get computers to do what they are supposed to do. The last item doesn't really count as a hobby, but some people might think that it does.
Languages
Native English, fluent German, broken Japanese (some call this intermediate level)