Pilates in Zurich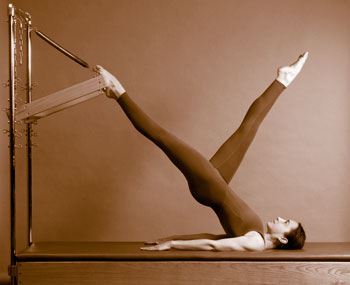 Pilates Zurich - training on the Trapeze Table
Looking for Pilates in Zurich? Read on...
What is Pilates?
The Pilates Method is a system of movement and exercise, developed in the 1920s by German physical therapist Joseph Pilates. His ambition was to create a set of exercises that work the body from the inside out, leading to a deep structural fitness as opposed to the superficial and cosmetic fitness often obtained by conventional fitness programmes.
Benefits of Pilates
Pilates is designed to strengthen the body's core by developing pelvic stability and abdominal control. The body will redevelop its natural foundation, which is often hindered by poor posture and motor control issues resulting from modern day living, injury, illness or heredity. This concentration of work within the core (abdominals, lower back, and hip musculature) results in more fluid, efficient movements. Pilates builds co-ordination, strength and improves flexibility and joint mobility through slow, controlled movements and proper breathing. By combining elements of yoga, breath work, weight training and gymnastics, Pilates is a truly holistic form of exercise, producing amazing results.
Where to find a trainer?
Have you been looking for a properly qualified Pilates instructor in Zurich or surrounding areas? Pilates is still a very new concept in Switzerland, but awareness among the expatriate community is high. Unfortunately, the same cannot be said regarding the quality of Pilates trainers currently working in Switzerland. Many are fitness instructors or dancers who have completed minimal training (often on weekends) and their knowledge of Pilates principles is poor at best. When you meet your Pilates instructor be careful to ask about their training and experience - which equipment are they qualified to teach? How long did their education take to complete? Do they really understand the principles of Pilates? Have any of their clients experienced a profound change in their bodies, or are they still wondering when the benefits will arrive?
Symetris - Pilates in the heart of Zurich Seefeld
Lynn Watkins runs a large Pilates studio called Symetris Pilates right in the centre of Zurich Seefeld. She is competent, has a medical background and has extensive training and experience in all aspects of Pilates. She is also one of the few instructors who is properly qualified to use all the various pieces of equipment. She completed her education with the prestigious Equilibrium Pilates in Cape Town, South Africa (when I was in Cape Town I did many sessions with them, and would recommend them if you are ever in Cape Town).
Her studio is well kited-out, is right in the middle of Zurich and all her customers extremely happy. If you are experienced with Pilates, or even if you've never tried it before - I can highly recommend paying her a visit. She works with clients from all walks of life - old or young, fit athletes or people recovering from injuries. Maybe you have a lot of back or joint pain and have tried everything? You would be surprised what she will be able to do for you in just a few sessions.
As well as offering Pilates training, she also provides classical Swedish massage, Shiatsu and relflexology treatments.